Doing some work for a client at the moment looking at personality and research into theories of the development of the self.
Along the way I have been researching Eysenck's famous work into personality traits and his even more famous questionnaire which came out of it. I love personality tests (the Myers-Brigg test I did just before moving to Bangladesh was the most illuminating test I've ever done) so I had a go at a quick version of the test just for fun and was quite impressed. You can see my results below.
I'm quite pleased that I still remain on the extrovert side of the extrovert-introvert line even if only just. I do fear that age and the crap stuff life has thrown my way in recent years is turning me into an introvert but according to this I've still got that good ole extrovert blood pumping in me!
I'm sadder that I've gone up the neurotic line and away from the emotional stability line where I was a few years ago. There's still many of the characteristics in the phlegmatic/sanguine areas which I recognise (and am recognised by others, I think) as me. But I think that it's fair to say events particularly over the last two years have conspired to make me moodier, more aggressive (in that I take no prisoners and suffer no fools) than I used to be.
I hope that maybe if I take this test in a couple of years and the big guy decides I'm not cut out to be Job or Joseph any longer that maybe that red spot will start to descend and head more to the right. I miss getting my energy from the presence of others and my heart is still sociable and easy-going.
On the plus – I'm not psychotic! (you can all sleep easy in your beds tonight knowing that) and I like the thought that I am overly kind. I hope that's true – I certainly don't see it as a weakness if it is.
Genuine LOL moment for me reading I have a martyr complex though! Oh. My. Goodness!!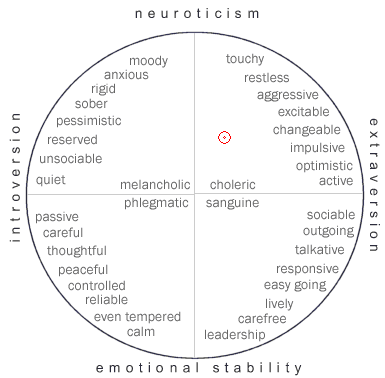 Eysenck's Test Results
Extraversion (59%) moderately high which suggests you are, at times, overly talkative, outgoing, sociable and interacting at the expense of developing your own individual interests and internally based identity.
Neuroticism (67%) moderately high which suggests you are worrying, insecure, emotional, and anxious.
Psychoticism (40%) moderately low which suggests you are, at times, overly kind natured, trusting, and helpful at the expense of your own individual development (martyr complex).
Take Eysenck Personality Test (similar to EPQ-R)
personality tests by similarminds.com