No soon have I begun this series of blog posts than I might have to alter the titles as Thing II, having decided traditional state schooling is for him, has changed his mind and is now not so sure! We've not even made it to the beginning of term yet and he needs to decide one way or another soon.
Meanwhile the Black Dog I told you about a little while ago has gradually reduced to being an annoying growly puppy and no more than that. So much so that I took myself of medication completely last week and so far feel very normal, very content with life. It has helped that I have forcibly ejected some aspects of my life which were, quite simply, bringing me down. I'm very aware that sometimes friends are in your life for a season only and sometimes it is right to part ways – especially when you have become toxic to one another.
The result is that these school holidays have proven to be immensely productive and happy so far. I'm doing a ridiculous amount of writing for clients and never been happier (in this country anyway). Both kids have had full-to-the-brim days between study, music, friends and pursuing their own interests. There's not been a single day where either has felt bored for a single moment.
Part of this is that the study materials for Thing I's first three courses have arrived and they're just great. The chapters are managably paced with plenty of self-study exercises plus several tutor-marked assignments spaced throughout. Thing I is in her element, making copious amounts of notes and applying the mnemonic and revision skills I'm teaching her. I've also begun teaching her Gregg Shorthand (which I've used since I taught myself as a teenager) – much fun, but also useful for her as she wants to be a journalist for her career.
We've only been at is for a week or so and already she is telling me stuff about Business Studies and Sociology that I don't know for myself. I'll have to start reading up on her courses to keep up – can't have her knowing stuff I don't know! That won't do…
Thing I has taken control of the kitchen too! She can't get enough cooking it seems and I'm more than happy to let her have free reign. The three of us have lunch together after exercising on the bike and weights bench, and listen to Just William on audiobook which is going down a treat.
Thing I has a much tidier working area than I do. Here's hers with two of the courses on display:
And here's mine with my new monitor which allows me to have research and writing up on separate screens – something I've not had since we left Bangladesh and I have soooo missed:
I have come to the conclusion that my study is probably my favourite place ever. Classical and Asian music playing all day, my books all around, musical instruments at hand to play, chessboards at the ready for practising and learning. I may not like living in the UK and my heart still bleeds for my beloved Bangladesh, but this room makes it all worthwhile.
Yeah, I know, I'm such a geek. Guilty as charged.
Talking of Bangladesh – we're raising money to help get Wifey back out there. We'd love all four of us to go but there's just no way we can afford that. While the plane ticket isn't too expensive we're still supporting a lot of families and friends out there and that's taking a toll on our bank account. So we're asking for a little help from any interested peeps to help us make sure we can continue to give much needed educational support for at least the next year.
I'm not making a big thing of this fundraising. I won't be putting the link up on the sidebars and I've not given this link publicly on any of my Facebook pages. Instead, I've shared it with a handful of friends privately and now I'm mentioning it here just the once. If you fancy throwing a fiver into our pot please do. Wifey has already been invited to do some teaching at clinics in Jessore down in the southwest part of Bangladesh before she moves up to our beloved northwest and LAMB. This trip will be cathartic for all of us even if only one can physically go.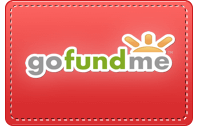 Click on the GoFundMe image above and you'll be taken direct to our page.